Reichert's Dairy Air: About Us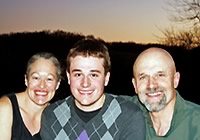 Lois is the goat-keeper and cheese-maker of Reichert's Dairy Air. This is a full-time (ad)venture for her. She enjoys the challenges and creativity involved in making cheese, but her real love is caring for the goats and keeping them happy and healthy.
Jack is "Chief Procurer of Hay." As a full time psychologist, he is not involved in day to day dairy operations, but is responsible for finding, hauling, and stacking lots of hay. Jack raised dairy goats before he and Lois met, and he spent several years trying to talk her into getting a few milking does. Man, is he sorry about that now.
Ben is an integral part of the dairy when he has time around his busy schedule of sports and activities. He cleans the barn every week, helps with moving of hay and straw, and is now helping with milking regularly. He shows goats at the fair and helps with kid feeding and care. He also takes care of the bucks during much of the year. He helps at Farmer's Market regularly and many of our regular customers have watched him grow and change over the years (much to his embarrassment).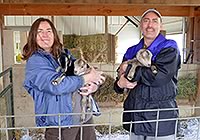 David and Wendy Johnson joined the dairy as employees/interns in 2011 and are still with us in 2014. They have become essential to our continued operations and help keep Lois from burning out by giving her time to take care of the family and rest occasionally. The goats love them both (We have a "Wendy's Drive Thru" when Wendy opens the window and feeds her favorite does pieces of her fruit from lunch) and they have become very much a part of our family. Lois is eternally grateful to them!
Cara Readout has been with the dairy since 2008 each summer. As a school teacher she has a real gift with the more mischievous goats. She helps with goat care, milking and cheese making during the summers and brightens everybody's day in the process!